Gavrosh Stevenson
Biography
Gavrosh Stevenson may have been born in the December of 1918, and seems to have done quite a bit thereafter. He spends most of his time writing biographies and short summary statements that most people in the world ignore. He has a wonderful wife and three brilliant children, which are by far the most interesting thing about him. Altogether it appears that he is rather an average sod ever ready to complain about something.
Where to find Gavrosh Stevenson online
Books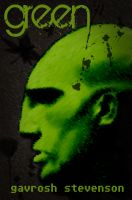 Green
by

Gavrosh Stevenson
Ingrid is a digitally-integrated, sixth-grade Emo. She uses her hacking skills to effect the escape of a botanical experiment named Leif from the labs of a genetic research facility. It's not easy being green. Environmentalism aside, the eight-foot vegetable anthropoid learns quickly that humanity is not ready to share its dominance with another sapient species. Especially not with salad.
Gavrosh Stevenson's tag cloud