Algernon Gedgrave
Biography
Algernon Walter Gedgrave, III is a philosopher, educator, freelance writer, poet and adventurer extraordinaire. His recent accomplishments, though less literary and more death-defying, found himself clinging to the edge of a steep cliff in an attempt to reach the precipice; atop of which was rumored to be an invisible community of fairies and ancient Greek Satyrs. While recovering from his injuries, and enjoying a peaceful retreat at the Allington Community Health Center, he was afforded the inspiration and time to compose this remarkable book. Feel free to read some of his other titles; The Tear Drop and The Winds that Stir.
Where to find Algernon Gedgrave online
Books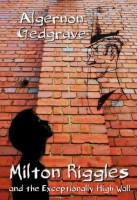 Milton Riggles and the Exceptionally High Wall
by

Algernon Gedgrave
A most extraordinarily bizarre and unprecedented adventure would befall the puny, pop-bottled glasses sporting Milton Riggles when he seeks to unravel the mystery of the exceptionally high wall and what lay on the other side.
Algernon Gedgrave's tag cloud