Geoff Hyatt
Biography
Geoff Hyatt has shown intermittent enthusiasm for electric guitars, vintage psychedelic posters, and ginger ale. He moved to Chicago after surviving the millennium, where he often sits reading a book while waiting for the bus.

His work has appeared in Knee-Jerk, Temenos, Thuglit, Criminal Class Review, and elsewhere. He recently received an M.F.A. from Columbia College Chicago, and attended the Creative Writing Workshop at Western Michigan University.
Books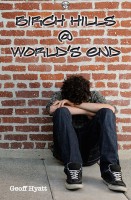 Birch Hills at World's End
by

Geoff Hyatt
Birch Hills at World's End begins between Detroit and nowhere, in 1999, when high school senior Josh Reilly senses an apocalypse approaching. A web of domestic strife, romantic rivalry, and millennial anxiety challenges two boys to stand together as their youth comes apart. Columbine... Y2K... can friendships survive the end of the world?
Geoff Hyatt's tag cloud