Geoff Lawson
Biography
Geoff Lawson was destined to lead a varied life, leaving school at fifteen to work as a carpenter, coachbuilder, kitchen installer, etc,.. and became a general all round handy guy. At home, his hobbies taught him other skills - vintage car restoring, muzzle-loading shooting and a fascination for the historical. Along the way he acquired the good wife, lovely daughters (grandchildren too) as well as the 101 things that mark a life well lived. His first foray into professional writing began with the restoration of an iconic artillery gun and resulted in the history book "Our Gun" which has since been followed by the historical novel "Forgiven". Now retired and still with Wendy (the same good wife) he is still committed to historical projects around the 'River City', (Whanganui New Zealand).
Where to find Geoff Lawson online
Books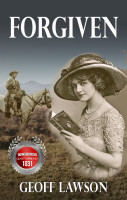 Forgiven
by

Geoff Lawson
Rachel is young, charming and troubled - a social outcast; but by chance, all that will change when she meets Richard, although potential trouble still abounds. Richard is keen to prove that he is worthy, but errs when he volunteers to fight in South Africa and leaves her under a cloud. Meanwhile, Rachel's safety is compromised and drastic measures are required to get her back.
Geoff Lawson's tag cloud