George Adams
Biography
My own big adventure started at age seven, in 1965, when my family moved from the south of England to Hamilton in the North Island of New Zealand - about as much separation from extended family and original homeland as you can get. Immersed in familiar patterns of British society and English language, blended with a staunchly egalitarian pioneer culture and influences of native South Pacific ways and worldview - I became intensely aware of my difference to other children around me at the same time as that difference being largely invisible to them. So themes of difference, personal identity, belonging and disconnection, family and community expectations and misunderstanding make appearances in my books, even in the lighthearted, comic ones.

I've worked many years as a counselling psychologist, specializing in trauma-recovery. For me, writing has been an escape and a summation of my personal wisdom and humour and fascination with the human individual and society.

I've enjoyed the help of the online community at YouWriteOn in enhancing my writing skill and as companions in the creation of engaging fiction. My first novel here on Smashwords is Postcards, which is a romance-mystery emotional roller-coaster (including lots of laughs)with a science fiction strand of 50,000 words. If that genre-blend hasn't put you off, be warned it's a real page-turner. You'll probably read it in one sitting then want to go back to the beginning to pick up on the subtle clues you missed. Postcards is the top-rated novel on YouWriteOn in their Best Sellers Chicklit category and also rates high in their mystery, romance and science fiction listings.
Books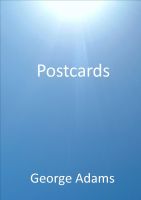 Postcards
by

George Adams
Postcards is a romance-mystery page-turner of 50,000 words. Constrained widower at twenty-six, Adam Peters, thinks he knew his wife, Tracy. He thinks he knows her family, their friends, their world. Then he begins receiving postcards from Julie, an old friend of Tracy she never told him about, from a phase in her life she never told him about. Adam's world falls apart and he comes alive.
George Adams' tag cloud