George Kouloukis
Biography
George Pan Kouloukis is a Greek attorney-at-law, a barrister. As a member of the Athens Bar Association, he has provided legal services to the Ionian Bank of Greece, the Greek Electric Railways Company, and other corporations. Of course, his book here has nothing to do with law; it is the result of a series of observations that everybody could have made after extensive research, provided he/she had experienced the specific events and situations the author has experienced, described in the book.
Books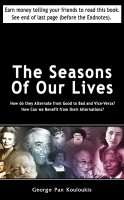 The Seasons Of Our Lives: How they Alternate From Good to Bad and Vice Versa and How we Can Benefit from their Alternations
by

George Kouloukis
(5.00)
The moment you've finished this a book, you'll be able to know whether the years just ahead are good or bad for you, and how long this season will last. You'll act thus accordingly: if there is a storm on the horizon, you'll take shelter in time; if sunny days loom ahead, you'll take advantage soon. This is because our life's seasons alternate according to a certain pattern, the author explains.
George Kouloukis' tag cloud