George Newman
Biography
George Newman was born in Vienna, Austria on August 26, 1936. Two years later, his family fled the Nazi annexation and came to the United States. He grew up and attended public schools in Miami, Florida. After high school, he worked at a variety of jobs ranging from factory helper to printer. Later, after serving three years in the U. S. Coast Guard and receiving an honorable discharge, Newman joined the staff of the Miami News where he worked as a reporter. In 1967, he moved to California where he served on the staffs of the Redwood City Tribune, Burlingame Advance-Star and San Jose Mercury News, taking time in between to earn a bachelor's degree. He subsequently received a Master of Science (psychology) degree from the University of Wisconsin-Milwaukee in 1973. He also served as an adjunct faculty member at West Valley College in Saratoga, California from 1973-1983.

In 1983, Newman founded The Newsletter Group which for two decades produced employee and customer newsletters for high tech firms in Silicon Valley. He also published The Newman Report, a hotel sales and marketing newsletter.

Among notable achievements, Newman has received the American Political Science Association Award for Distinguished Reporting of Public Affairs; San Francisco Press Club, best news story; South Bay Press Club, best feature story; the Associated Press News Executives Conference, best feature story; and the State Bar of California's Golden Medallion Media Award for outstanding reporting on the administration of justice.

He has been a volunteer in Big Brothers, a Little League coach and rental housing mediator for the City of Mountain View, California. He also served as a trip leader for the Sierra Club, volunteer tutor for Literacy Volunteers of Pima County and an elementary school mentor for the Interfaith Coalition for the Homeless.

He was the founder of Project One Hour One Child, a volunteer tutoring program for at-risk elementary school children.

Newman is the author of 101 Ways To Be A Long-Distance Super-Dad… or Mom, Too! (Blossom Valley Press), a handbook for long-distance parents and Things I Know Now That I Wish I'd Known Then — 150 Tips for Living Smarter (Robert D. Reed Publishers).

Newman and his wife, Sondra, live in Tucson, Arizona.
Books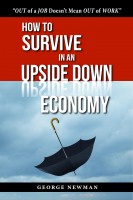 How To Survive in an Upside Down Economy
by

George Newman
Every month, 1.7 million Americans lose their jobs. If you're over 40 and find yourself out of a job, you may be worrying how you're going to keep your house and your health insurance plus make payments on your SUV. The answer, says George Newman, author of How to Survive in an Upside Down Economy, is to hire yourself — and be your own boss. Being out of a job doesn't mean being out of work!
George Newman's tag cloud