Geraldine Wijsbeek
Biography
Geraldine Wijsbeek, FFIPI, FFSM, WYEF

Geraldine is a Fashion Feng Shui® (FFS) Master Facilitator, an accredited trainer in image and style, a Work Your Element Facilitator and a fellow of The Federation of Image Consultants in London. She has been on the board of the Federation of Image Professionals International (FIPI) as international director and as president, and currently serves as accreditation director. Living in ten different countries over the course of 30+ years has opened Geraldine's knowledge and awareness of colors and of the different cultures of people and their styles of dressing. She has, through experiencing these treasured memories, cultivated an open mindset and become very knowledgeable of the characteristics and aspirations of people.

Fashion Feng Shui® has given her the tools to work with men, women and children by helping them discover their innate elemental energies and teaching them to use this knowledge to achieve the ultimate in their lives. Helping others is truly her passion. Geraldine has studied Chinese physiognomy, an ancient wisdom from China, analyzing important aspects of personality and character. It is based on the principles of traditional Chinese medicine.

She is a passionate teacher, and Geraldine works with color in an innovative way. Styling her clients through Fashion Feng Shui® enables her to determine their inner wellbeing, and her goals are to show them their shining self. She is a people's person and will do her utmost to get a satisfying result which will last a lifetime.
Books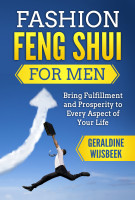 Fashion Feng Shui for Men: Bring Fulfillment and Prosperity to Every Aspect of Your Life
by

Geraldine Wijsbeek
Fashion Feng Shui for Men presents the revolutionary image practice that applies five-element wisdom to personal style and well-being in clear and concise terms to guys. Through insights, quizzes and case studies, men learn how to dress so they can honor their innate being, realize their goals and live their very best life.
Geraldine Wijsbeek's tag cloud