Edwin Erickson
Biography
I was born in New York City. I have lived in many cities in the United States.

I am a graduate of the Los Angeles City College Broadcasting Department. I am a graduate of San Jose City College, majoring in Theater Arts. I attended the senior year at San Jose State University, majoring in Radio/TV Production and minoring in Theater Arts. While at these colleges, I appeared in many stage plays, including recognition in the San Jose Mercury News for a role in Hot L Baltimore at San Jose State. I have met famous people. I asked questions of Dr. Martin Luther King, Jr. in a 1964 Los Angeles press conference. My experiences as a Hollywood hippie while taking many psychedelic drug trips are memorable. My experience on the brink of insanity and my recovery, mostly on my own, are interesting and provide insight into inner growth and how life changes while the journey continues.
Books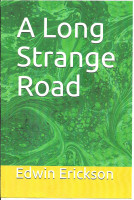 A Long Strange Road
by

Edwin Erickson
An autobiography of experiences in the life of a unique individual who lived in and explored the United States from 1948 to 1976, with his primary address being South-Central Los Angeles. This book describes times past that you may have lived yourself.
Edwin Erickson's tag cloud