Kane Gilmour
Biography
Kane Gilmour has visited over 40 countries around the world. When he hasn't been pounding he keys until his fingers bleed, he has been rock climbing in Arizona, mountain biking in the Midwest, exploring ancient cities in Sri Lanka, hiking in the mountains of Western China, ice-climbing in Scotland, and exploring abandoned buildings in Eastern India. His first action/adventure thriller, RESURRECT, is available now. He currently lives in Vermont with his wife and son.
Where to find Kane Gilmour online
Books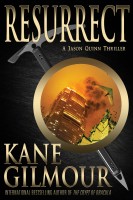 Resurrect: A Jason Quinn Thriller
by

Kane Gilmour
In the 1850s, a madman proclaims himself the Son of God and raises an army, taking over half of China. Now alpine engineer Jason Quinn, and archeologist Dr. Eva Rayjek meet after a plane crash in the Himalaya. Neither of them expects wave after wave of pursuing Chinese assassins. From Asia to the US and Europe, they are hunted until a final explosive showdown with an armed zealot at the Vatican!
Kane Gilmour's tag cloud