Girard O'Malley
Biography
After graduating from St. John's University in 1969, Girard O'Malley was hired by the New York Telephone Company as a computer planner. Eighteen years later, he changed careers and joined the Metro-North Railroad in New York as a train mechanic. He often spoke of the many colorful characters there.
Books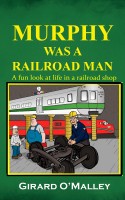 Murphy Was a Railroad Man
by

Girard O'Malley
A gang of screwballs and misfits bungling their way through the wacky world of train repair! The hazardous and hidden world of railroad repair shops is populated by a unique breed of individuals. Murphy's Law states: "Anything that can go wrong, will go wrong." This is certainly true in the Onionville Repair Shop---on a daily basis.
Girard O'Malley's tag cloud