Mary Halverson Schofield
Biography
Print books:
River of Champions (nominated for the Minnesota Book Award)
Henry Boucha: Star of the North
Serina - Girl's hockey book, out of print
Has an optioned screenplay, "River of Champions."
2nd screenplay completed and protected; book companion to screenplay.
Poet

B.A. University of New Mexico; graduate work at the University of New Mexico and University of California.

Taught public school in New Mexico, Minnesota, Illinois, and California and Wisconsin.

Home is Minnesota. Married to Darrell Schofield, son, Andy Schofield.

Groups associated with past and present: University of Minnesota Women's Club, 1006 Summit Ave Society, Minneapolis Women's Club, Pen Women, Opera Guild, Patron of Minneapolis Institute of Arts, Member of Guthrie Circle, Toastmasters.

Contact info: schofieldmary@hotmail.com.
Books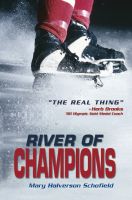 River of Champions
by

Mary Halverson Schofield
A true, against-all-odds story about common teen-aged boys whose single goal, and the path to reach it, turned them into extraordinary young men. It is a heart-warming story of desire, grit, and determination of boys who dare to attempt the impossible dream.
Mary Halverson Schofield's tag cloud