Glenn Campbell
Biography
I have been writing books, in my head, all my life. I started writing one of them down in the '80's, when I had some time to spare, but ran out of spare time before finishing. This was before laptops; writing by hand is slow. In 2009, I had enough time to type up the one that had been rattling around in my head for a few years. I have lived in Ohio, Virginia, Mississippi, Brasilia DF, Mexico DF, New York, New Hampshire and Washington DC. I have worked as a math teacher, accounts payable supervisor, records manager, postal clerk and innumerable summer jobs between school years. I read constantly. I like science fiction, fantasy, mysteries and picking something at random off the bookshelf.
Books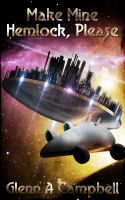 Make Mine Hemlock, Please
by

Glenn Campbell
(2.00 from 1 review)
When Professor Alan Wilson accidentally becomes the only Earthling to know that Earth's future is being negotiated among aliens that he does not trust, he corrupts some students aboard one of the alien ships so that they thwart their elder's plans. Enjoy the ride as things spin out of control and they free several other planets as well as Earth.
Glenn Campbell's tag cloud