Gordon L Swanepoel
Biography
Gordon Swanepoel has a heart for people, both Christians and the unsaved, but even more so, a passion and love for God's Word, and the Truth it reveals. Driven by a strong desire to reveal the Truth of the Gift of Tongues, and how it is to be interpreted properly, has become his first book: 'The Case against Tongues: Weighing up the Evidence'. Gordon has several topics in mind, which he is currently contemplating writing, in order to correct sincere error, wherever it exists and is practised in the Christian world. He lives with his wife, Lauretta, in Centurion, South Africa.
Books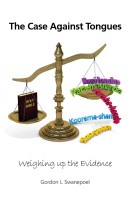 The Case Against Tongues: Weighing up the Evidence
by

Gordon L Swanepoel
(5.00)
My sincere prayer is for all those who practice and promote speaking in tongues, to take the time to read this book. With an open mind, consider all the scriptures and the arguments therein, so that you would be thoroughly and prayerfully challenged to weigh up the evidence and observe the unassailable case against tongues. Scripture alone, is sufficient to lead us into all truth, and set us free!
Gordon L Swanepoel's tag cloud