Gordon Van Smith
Biography
The author, Gordon Van Smith, lives in Grand Rapids, Michigan, USA. Mister Smith has written poetry for many years. His book, Endurance, is his only published work of fiction. Gordon has traveled to several countries around the world. He enjoys family, friends, nature, art, writing, reading, and learning.
Books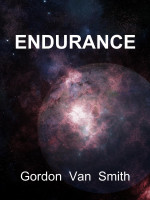 Endurance
by

Gordon Van Smith
(5.00 from 3 reviews)
Over a very long period of time, Homo sapiens had ravaged and ruined the Earth. Climate change and toxic pollution created environments that were deadly to the life-forms of the world. War, famine, and disease had decimated life on Earth. The only hope left for the continuation of the human species is to send a remnant of humanity on a starship to a planet in another star system to start over.
Gordon Van Smith's tag cloud