Grace Bannatyne
Biography
Grace Bannatyne has an academic background in the medical sciences, and is a mother of three (now) grown up children. Several years ago, while working in a university, her working hours were cut in the recession and she found herself relying on an unorthodox way of supplementing her income. In 2015, she decided to write about these experiences in the form of a memoir-based work - and 'The Reluctant Tantric Goddess' was created.
This book documents a short period in her life when she decided to go along with her friend Selene's suggestion to work as an erotic masseuse. Supported by the enlightened Selene, Grace attempted to learn the ways of Tantra and reinvent herself as a Tantric Goddess. However, being old fashioned and very set in her ways, Grace was more at home peering down a microscope in the clinical confines of the university research laboratory - than rubbing men's bodies for remuneration. In 'The Reluctant Tantric Goddess,' Grace relies on humour as a coping mechanism - and she invites the reader to share in the funny side of the trials and tribulations of an academic, middle aged woman struggling to meet the high expectations (and often eccentric requests), of the men who pay for her attentions. Her rigid scientific approach to life attempts to subdue the clients' demands in the unpredictable arena of the massage parlour – yet the passionate ecstasy of the Tantric philosophy also helps her to connect with her own inner Goddess.
Nowadays, after becoming disillusioned with working towards her PhD - Grace works part time as a university tutor, helping students (with additional learning needs) to reach their full potential. She has also become bitten by the writing bug and is currently working on a children's novel.
Books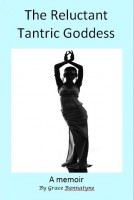 The Reluctant Tantric Goddess - A Memoir
by

Grace Bannatyne
A memoir-based account of an academic, middle-aged woman's attempt to supplement her income by learning the art of erotic massage. More comfortable peering down her microscope, Grace Bannatyne attempts to manage her business with the same scientific approach - often with highly amusing results. Using humour as a coping mechanism, she invites us to be entertained by her light-hearted anecdotes.
Grace Bannatyne's tag cloud