GradBrazil
Biography
GradBrazil is Brazil's leading specialist in a range of Study, Research, Work, Teach and Volunteer programmes for non-nationals in Brazil. There are many who wish to study or research in Brazil. Many see it as a country where they can hone their skills and gain first-hand experience. GradBrazil is a team of experienced professionals and partners that advise and guide those with such aims. They have a network of carefully selected strategic partners plus close ties to accomplish the various tasks. GradBrazil also develop and compile all the necessary documents required for submission to the Brazilian Immigration Services. Most importantly, through monthly events in various countries. GradBrazil equip you with all that is demanded to secure study or research funding in Brazil. They guide foreign students and graduates in identifying and seeking the most suitable funding programs to their needs and qualifications.
Where to find GradBrazil online
Books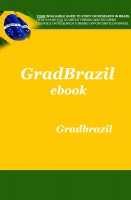 Grad Brazil eBook
by

GradBrazil
YOUR INVALUABLE GUIDE TO STUDY OR RESEARCH IN BRAZIL. HERE'S HOW YOU GO ABOUT FINDING AND SECURING COURSES OR RESEARCH FUNDING OPPORTUNITIES IN BRAZIL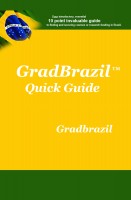 Grad Brazil Quick Guide
by

GradBrazil
Your introductory, essential 10 point invaluable guide to finding and securing courses or research funding in Brazil.
GradBrazil's tag cloud