Grady Hendrix
Biography
Grady Hendrix's fiction has appeared in Lightspeed Magazine, Strange Horizons, Pseudopod, and The Mad Scientist's Guide to World Domination. He's the author of SATAN LOVES YOU, OCCUPY SPACE, TALES OF THE WHITE STREET SOCIETY, and co-author of DIRT CANDY: A COOKBOOK, the first graphic novel cookbook. His nonfiction has appeared in Variety, Slate, Playboy, Time Out New York, the New York Sun, and the Village Voice. He once fought a bear using only harsh language and rude gestures. The bear won.
Where to find Grady Hendrix online
Where to buy in print
Books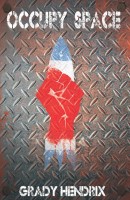 Occupy Space
by

Grady Hendrix
"Occupy Space" is "Gravity" with more beer. It's the story of Redneck NASA, the promised land for all the rocket junkies, pyromaniacs, astro-hippies, and science gladiators who believe that our future isn't down here on earth, it's up there in space, and they don't need anyone's permission to get there.