Graham Ham
Biography
Started writing in 2005 after working through a number of variously successful careers until i'd had enough of the corporate hamster-wheel and jumped off. It really was a 'stop the world, I wanna get off' moment, and I've never looked back.

Have spent a vast amount of time since riding old classic motorcycles all over Europe, occassionally in America, and writing about it all in books and for magazines.

Two long running feature columns in Realclassic Magazine ('Daisy's Diary' and then, after a break 'Over The Hill') have meant that I've been accused of travel journalism, but I call it *fun*.

Life really IS too short. go out and enjoy it. I am ....
Books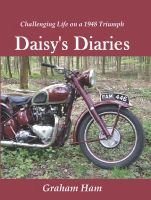 Daisy's Diaries
by

Graham Ham
Life. Career. Material Wealth. Success. Most of us want those things, but with them come stress, long hours, sacrifice. The trick is to find balance, or compromise. Or is it? There's another way! In this true story, the Author walks away from a high power career, buys a very old motorcycle, heads for the hills, reconnects to his family, rediscovers the joy of living and, well just has a ball!
Graham Ham's tag cloud