Graham Peterson
Biography
Graham Peterson is an average, middle aged man whom, after many years finally found love. Only to have his world turned upside down when he realised he had contracted the herpes type 2 virus.
On his journey of discovery, he had to re-invent himself and learn how to deal with the devastating news and how to live his life to the full.
Soon realising that there is a lot of information on the virus, however most of the information is from a medical point and not from a human side or personal experience.
On his journey Graham decided to become a counsellor and share his experience to help others.
Books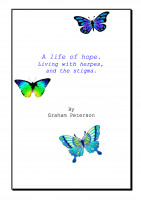 A Life of Hope
by

Graham Peterson
A Life of Hope details the journey of a man who received the news that he had contracted the sexually transmitted disease Herpes. It is a very personal and intimate journey of how one man dealt with the many psychological effects that this news brings. There are no other books out there that can give such a perspective. Its main theme is that you are not alone.
Graham Peterson's tag cloud