Jeff Carleton
Biography
After more than 20 years as an award-winning copywriter and creative director in advertising, Jeff Carleton decided to pursue his real passions: films and novels. His film experience includes co-writing and co-producing THE HOUSE BEHIND THE WALL, a movie based on a famous ghost story at Ft. Monroe, Virginia.

THE MAN IN THE GARDEN is the first of what he hopes to be many novels that entertain and educate readers about modern society. When the weather is nice in Virginia Beach and Jeff isn't writing, reading, or watching films, he can usually be found on a golf course. He dreams of one day being able to play golf as well as some of his characters do.
Books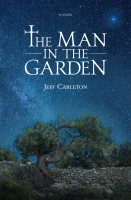 The Man in the Garden
by

Jeff Carleton
A tragic car accident transports a faithless priest to a place only God could have sent him: a garden outside Jerusalem almost 2000 years ago. THE MAN IN THE GARDEN examines theoretical questions such as: If you could go back in time and talk with Jesus, what would you ask Him? And what would you tell Him about the future?
Jeff Carleton's tag cloud