Bill Greenwood
Biography
Bill Greenwood is a mid-50's salesman, writer, racer, and aficionado of old Mopars. An enthusiast of decent bourbon and good scotch, he generally feels that liberalism is a mental disorder. He lives in Red Deer, Alberta with his wife of 35 years-Jane- and an annoying cat. When not writing, he's working on his race car, or making wine, or cursing at the weeds in his yard.
Smashwords Interview
Books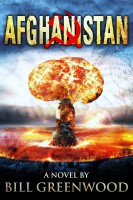 Afghanistan
by

Bill Greenwood
General Nikolai Petrosik once tried to use a nuclear weapon in Afghanistan, not to kill the Afghan resistance, but to force NATO out of Europe. 30 years later, he has crafted a far more deadly plan that will destroy Western Europe and decapitate America's leadership without warning. Only a grief stricken British intelligence analyst, an aging spy, and a lonely Russian investigator can stop him.
Bill Greenwood's tag cloud