Greg E. Viehman M.D.
Biography
Dr. Viehman was born and raised in Wilmington, DE. He attended and graduated magna cum laude from the University of Delaware. He attended medical school at Jefferson Medical College in Philadelphia, Pennsylvania graduating number one in his class. He completed an Internship in Internal Medicine at the Hospital of the University of Pennsylvania in Philadelphia, and a dermatology residency at Duke University Medical Center, where he was chief resident. Dr. Viehman completed his fellowship in skin cancer surgery also at Duke. Dr. Viehman co-founded the Cary Skin Center in Cary, North Carolina, and worked there 1998-2008. He is now in solo private practice at Sea Coast Skin Surgery in Wilmington, NC. Dr. Viehman has lectured nationally on dermatologic surgery and authored several published scientific research articles. He has multiple interests, including, running, cross-fit training, and missionary work for orphans in Ukraine with New Life Ministries, and collecting rare Bibles. Dr. Viehman's family includes his wife Ruth, two sons, Brendan and Cameron, a daughter, Hannah and a border collie named Pepper.
Where to buy in print
Books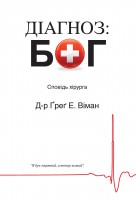 The God Diagnosis - Ukrainian Version
by

Greg E. Viehman M.D.
Скептично налаштований американський медик вирішує спростувати християнство, щоб викрити своїх віруючих сусідів у лицемірстві. Ґреґ Віман керується класичним науковим методом, неупереджено зважує факти, та раптово на власному досвіді переживає Божу присутність. Він діагностує свій новий стан відповідно до вимог медицини й доходить парадоксального висновку, що впливає на його долю.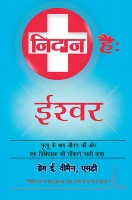 The God Diagnosis - Hindi Version
by

Greg E. Viehman M.D.
Successful surgeon seeks life's answers. "निदान हैं : ईश्वर" एक सफल शल्य चिकित्सक की अनूठी यात्रा है, जो अपने जीवन के सभी सपनों की पूर्ति को खाली, एकाकी तथा निराशाजनक पाता है। सत्य एवं जीवन के बुनियादी सवालों के जवाबों की खोज आरंभ करते हुए, डॉ वीमैन खुद को अपने जीवन के सबसे ज्यादा दिमाग चकरा देने वाले निदान के केंद्र में पाते हैं। जाँच, परीक्षण, और व्यक्तिगत संघर्षों से होकर आगे बढ़ती एक दिलचस्प य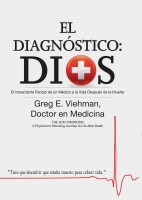 El Diagnóstico: Dios: El Impactante Periplo de un Médico a la Vida Después de la Muerte
by

Greg E. Viehman M.D.
"El Diagnóstico: Dios" es el periplo único de un cirujano exitoso que encuentra la realización de todos sus sueños en la vida vacíos, solitarios, y deprimentes. Al embarcarse en una búsqueda de la verdad y respuestas a las preguntas básicas de la vida, el Dr. Viehman se encuentra a sí mismo en el epicentro del más asombroso diagnóstico de su vida. Big Mac Publishers
Greg E. Viehman M.D.'s tag cloud