Glenn Ernest
Biography
I was born in the French Hospital in downtown Los Angeles, California, on November 4, 1934. Early locations were in San Diego, Santa Monica and Mt Shasta, from one end of the state to the other, but I spent 1940-48, the WWII years, living at the CAA Station at Daggett, an airport which became a military base and trained P-38 pilots for combat. I went to grade school in Daggett and my first year of high school in Barstow. In 1948 my father transferred to Bryce Canyon airport in rural southern Utah and I spent my last three high school years in Tropic, Utah. After graduation in 1951 my father got a transfer to Salt Lake City so i could attend the University of Utah. I spent 8 years there getting first a BS in Mineralogy and then an MS in Geophysics in 1962, less three years subtracted in 1953-56 for the Korean War, which I was happy to spend at Camp Pendleton, California, as they managed to end the war without my assistance. Upon graduation I spent the next 11 years working for Standard Oil of California (Chevron) in La Habra, California, and subsequently worked for them in Bakersfield/Oildale, San Francisco, and Seattle, Washington, ending up eventually in New Orleans, Louisiana. I much preferred living in Walnut Creek, California, and I wanted a fixed location in which my four children could grow up, enough with all of the transfers, so I got a real estate license and did that for the next thirty years. I opened my own office in Walnut Creek with one partner, later moved up to Jackson in the Sierra foothills with another for the final twenty years. After that we retired on our social security and moved to Pananagua to enjoy the tropical climate. Then we adopted a little boy and the rest, as they say, is history.
Smashwords Interview
Books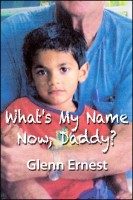 What's My Name Now, Daddy?
by

Glenn Ernest
People attempting adoptions, particularly international adoptions, soon learn that they are about to encounter a stifling bureaucracy. This is the story of how one family successfully dealt with them, together with tips which should save people not only a great deal of time but also perhaps thousands of dollars along the way. The author did, so anyone can do it once they learn how.
Glenn Ernest's tag cloud