Gregory L. Norris
Biography
Raised on a healthy diet of creature double features and classic SF television, Gregory L. Norris is a full-time professional writer, with work appearing in numerous short story anthologies, national magazines, novels, the occasional TV episode, and, so far, one produced feature film (Brutal Colors, which debuted on Amazon Prime January 2016). A former feature writer and columnist at Sci Fi, the official magazine of the Sci Fi Channel (before all those ridiculous Ys invaded), he once worked as a screenwriter on two episodes of Paramount's modern classic, Star Trek: Voyager. Two of his paranormal novels (written under my rom-de-plume, Jo Atkinson) were published by Home Shopping Network as part of their "Escape With Romance" line — the first time HSN has offered novels to their global customer base. He judged the 2012 Lambda Awards in the SF/F/H category. Three times now, his stories have notched Honorable Mentions in Ellen Datlow's Best-of books. In May 2016, he traveled to Hollywood to accept HM in the Roswell Awards in Short SF Writing.His story "Drowning" appears in the Italian anthology THE BEAUTY OF DEATH 2, alongside tales by none other than Peter Straub and Clive Barker. Follow his literary adventures at www.gregorylnorris.blogspot.com.
Books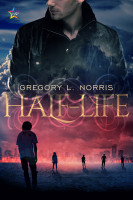 Half-Life
by

Gregory L. Norris
To save the one he loves, Whitney must confront powers he never expected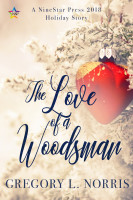 The Love of a Woodsman
by

Gregory L. Norris
Teddy Saunders wakes from a trance, trapped in a car speeding through a snowy December landscape, the prisoner of a sinister monocled man and his servant. His captors' intentions soon become clear—Teddy is to be sacrificed to weaken magical wards surrounding a realm of sacred woods.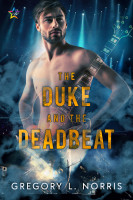 The Duke and the Deadbeat
by

Gregory L. Norris
Duke was born into rock royalty. Front man for the popular Goth band 3-D, Duke's had everything handed to him his entire life—fame, fortune, flesh. The problem is he wants none of it. Seamus is tall, handsome, and passionate about music. Seamus has had none of Duke's lucky breaks and dreams of a rock star's life while living out of his car between gigs. Meeting Duke is like looking into a mirror.
Gregory L. Norris' tag cloud