Gulnar
Biography
After her secondary education in Sri Lanka and India, Gulnar (which is the middle name of Khulsum Edirisinghe) moved to the USA where she graduated in English and Dance from the University of North Carolina. On her return to Sri Lanka, she established her own ballet school for eight years.
She joined Asian International School at the time her mother, Goolbai Gunasekara (author of 'It's the Escalator I Can't Manage' and 'Up Sigiriya with KitKat') became the founder Principal, and Gulnar currently heads the Department of University Advising and Counseling. She also teaches English and Literature. Her writings and poetry have been published in India, the USA, Singapore and Sri Lanka and her biography was included in Celebrating Sri Lankan Women's English Writing, edited by Dr. Yasmine Gooneratne.
Gulnar comes from a family of Theosophists, and this early exposure to the religions and philosophies of the world drew her to the study of comparative religion and spiritual disciplines at a young age. She introduced the teaching of Buddhism and Values Education – an interdisciplinary approach to religious education – to the students at Asian International School. She also pioneered the Interfaith Society at this school and it continues to be one of the most dynamic student organizations to this day. She served as the interim National Vice-President of the Theosophical Society in Sri Lanka. Gulnar is also certified in all the levels of Pranic Healing, an alternative practice that works on the bioplasmic body of the patient.
Books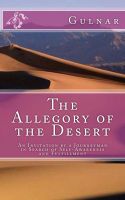 The Allegory of the Desert
by

Gulnar
This ensemble of insights and profound wisdom, seamlessly expressed in verse and prose, offers guidance and companionship to those experiencing that particularly dry and arid phase in the spiritual journey called 'the dark night'.
Gulnar's tag cloud