J.D. Vincent
Biography
Jess Vincent here, letting you guys know a little bit about me. I've been writing poems,short stories, and other things for many years. This stemmed from my love to write and being a dungeon master for years playing Dungeons and Dragons with friends. I used to keep my stories and tales of interest private, but with friends and family egging me to go out and see where it takes me in the world. I finally decided to do just that and bash all my fears and doubts into the dirt. Being a family man, I felt it was important for me to actually try to branch out with my life long passions and desires. To show my kids that reaching out and trying to share your talents is never a bad thing.
Smashwords Interview
Books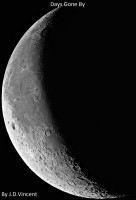 Days Gone By
by

J.D. Vincent
Join in the odd tale of teenager Danny and his strange predicament of horrific reoccurring nightmares. Mystery, suspense, and horror await him each time he sleeps. Trying to juggle a normal life with these strange dreams is taking its toll on him. Does he have the willpower and fortitude to keep on going? Will he find the aid he needs in this supernatural dilemma? Only days going by will tell.
J.D. Vincent's tag cloud