Kay Taverna
Biography
Born in Fontana, California on December 9, 1953. Third of six girls. Married and have two grown children, (boys) and two perfect grandchildren. Currently living in Southern California.

Wrote this story out of a personal experience with my beloved friend, Richard Anthony Caprino, which gave his life for the chance to spread the word conveyed in this story.
Books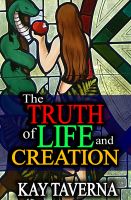 The Truth of Life and Creation
This is a true short story that will hopefully open the reader's mind about, our creation, the original sin and what happens when we die. Please read this with an open mind!
Kay Taverna's tag cloud