Hal Malehorn
Biography
A chance encounter with a library book about Lincoln in the small library of a tiny elementary school led to a lifelong interest in Lincoln, an interest that I pursued in my career first as an elementary school teacher, then as a college professor, then as a newspaper columnist, and finally as a "Living Historian" at Sarah Bush Lincoln's historical cabin site in Illinois. This book is borne of decades of research and writing, combined with an abiding appreciation for who Lincoln was, where he came from, and what he accomplished.
Books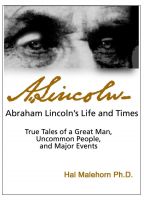 Abraham Lincoln's Life and Times: True Tales of a Great Man, Uncommon People, and Major Events
by

Hal Malehorn
Looking for Lincoln? Historian Hal Malehorn has captured the essence a remarkable man. This book tells of America's beloved leader, his legend, and his era. Chapters describing Abe's practice and politics, hard times and good, explain the background and the results of a terrible war. Here 272 1000-word stories describe his life and his legacy. Both inspired his age, and they do so yet.
Hal Malehorn's tag cloud