Hugh Starkey
Biography
Hugh Starkey retired from corporate America a few years ago and has since been able to pursue his writing interests, which include short fiction and poetry. He has also been the editor of a regional car club magazine. Presently, his writing credits are primarily poetry with some short fiction, which can be seen from time to time in Calliope. He has written young adult science fiction and fantasy book reviews and articles for Spectrum Home and School Network. Hugh lives in Arizona, enjoying the sun and relaxed Arizona lifestyle since his move from the Pacific Northwest.
Books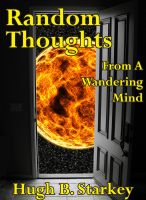 Random Thoughts From A Wandering Mind
by

Hugh Starkey
(4.67)
This random selection of poems form a mosaic covering observations of life in its many aspects from the humorous to the serious and thought provoking.
Hugh Starkey's tag cloud
Smashwords book reviews by Hugh Starkey
Six Years in May: Thirteen Stories from a Very Odd Mind on May 23, 2011

I just finished Six Years in May and enjoyed every syllable and each story is unique. It has been said many times that the author doesn't want to do anything that would interrupt the reader and each of these stories lives up to that premise. Even though I've read and enjoyed The Well and On Bullies and Gods before they lost nothing in the second reading. However, my favorite was Six Years in May, with The Oldest Debt coming in second. As for the whole collection all I can say is, "Bravo!"

Stories from the Cantina on June 16, 2011

Harvey Stanbrough, in Stories from the Cantina, has created an intriguing series of short stories that, even though each stands on its own, are tied together with a magical thread. Each story drives the reader to the next. Once starting on Jose's journey I felt compelled to follow that thread and experience each new character as each came alive. I could not help but to empathize with Maldito and I eagerly await more stories from the cantina. This is a great read for those familiar or new to the genre.