Bill Halkett
Bill was born in Quidi-Vidi, Newfoundland and raised in Montreal. He is bi-lingual. He has lived on the west coast, moved to the Bridal-Wood area of Toronto where he resided for over 25 years. He has travelled extensively and was a Rotarian belonging to the Montreal Rotary Club.
Bill's career has been in the electrical and electronic manufacturing world. He went to McGill although he did not complete there, he did graduate from Montreal Teck. Bill has worked for many companies such as Siemens Canada, Klockner Moeller, Cuttler Hammer, to name just a few. He also purchased Polygon Transformers Ltd. And in his later years created a consulting company called Kilkenny and Associates.

He also worked for over 13 years for a World Fortune 500 company called Omron, a Japanese electronic a manufacturing company head-quartered out of Kyoto Japan. As senior vice president it was like obtaining two MBA'S. The Japanese are excellent business people.

He retired 4 ½ years ago and picked Pembroke to live in. He claims retirement has not been easy, and he is presently volunteering his time as Board Chair of the Pembroke Library. He is an avid fisherman, loves Piano Jazz music and is an avid reader of many topics from Quantum mechanics, Einstein, the latest book on the life of Steve Jobs (Apple), and many business publications.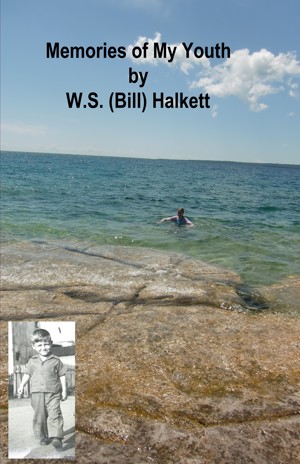 Memories of My Youth
by

Bill Halkett
This is a book about the early life of Bill Halkett. It tells of his growing up in Verdun Quebec and his adventures and misadventures. It deals with life, birth, death, and his disappointments and success. This was created as a legacy for his future generations to know what his life was really like.