Neil Hamley
Biography
Neil Hamley initially trained as an occupational therapist, graduating
from the University of South Australia in 1994. For the next nine years,
he worked in the area of mental health, working in both hospital and
community settings and with both government and private organisations.
Much of his work was devoted to designing and running courses to assist
people to assist themselves with their mental and emotional well-being.
In 2003 he completed a Bachelor of Arts degree at the University of
Adelaide, graduating with honours in the History of Ideas. In 2008 he
completed a PhD in the area of ancient Greek philosophy at Monash
University, Melbourne. His thesis was on the nature of the soul in the
Enneads, the work of the mystic-philosopher Plotinus. He is currently
working in the area of mental health.
Books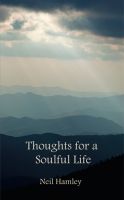 Thoughts for a Soulful Life
by

Neil Hamley
Thoughts for a Soulful Life is a collection of short passages about the Soul and living a Soulful life. The book explores two foundational themes. The first is that the essence of each individual - indeed of all life - is Divine Awareness: what has traditionally been called the Soul or Spirit.
Neil Hamley's tag cloud