Hugh Andrews
Biography
Hugh Andrews is the pen name of a college instructor and writer. When he is not busy perfecting his expertise at never having to wear a tie, he reads books, lets his kids jump on him, grows vegetables, and plays the party's spellcaster. If you enjoyed this book, please take a moment to leave a review of it at your favorite retailer. Keep your eyes out for new titles coming soon, and maybe even a sequel to Nolan's Ark!
Where to find Hugh Andrews online
Books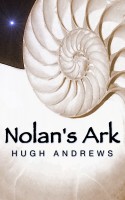 Nolan's Ark
by

Hugh Andrews
(4.00 from 1 review)
Craig Quist, a talented member of a cult of scientists preparing for an alien invasion, makes an incredible archeological find that could save humanity. Will his sister's involvement in the government's dire plans for the cult be able to keep him safe? Will an extremist leader of the cult be able to suppress his abilities? Or will Craig be able to pave the way for humanity to reach the stars?
Hugh Andrews' tag cloud