William Gorman
Biography
At an early age Bill Gorman became enamored with ghost stories, with the rhythmic, almost intimate telling and retelling of them. He has pursued things that go bump in the dead of night ever since. When not making his way through overgrown burial grounds or abandoned old dwellings in search of specters walking among us, he can usually be found with a menagerie of assorted four-legged creatures around him. A lifelong denizen of the upper Midwest, Mr. Gorman has currently 'gone ghost' himself and is somewhere hard at work on his first novel.
Books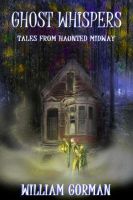 Ghost Whispers: Tales from Haunted Midway
by

William Gorman
Price:
$2.99 USD.
Words: 38,050.
Language: English.
Published: December 13, 2012
. Categories:
Fiction
»
Horror
»
Ghost
Have you ever felt uneasy chills upon entering an old house or cemetery? Sensed someone watching you from the dark at the top of the stairs, when you knew you were alone? If so, then dim the lights and stoke up the fire. These stories will thrill and bewitch you, and unveil the hauntedness in us all. Read them and be scared...
William Gorman's tag cloud