Heather Clawson
Biography
Heather Clawson is an incognito Valkyrie who's been known to defy belief, imagination, gravity, death, and, on occasion, her mother. A big believer in knowing how to do the same things her characters know how to do, she can speak knowledgeably on the subjects of Tae Kwon Do, falconry, sniper shooting, swinging a sword, being chased by geese, creative swearing, motorcycling, origami, and baking.
An aspiring novelist and book reviewer for the San Francisco / Sacramento Book Review, Heather lives on the east coast with her long-suffering husband and two fluffy, mostly-obedient dogs.
Books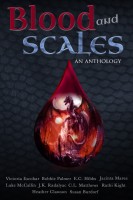 Blood and Scales: An Anthology
by

Victoria Escobar

,

Ruthi Kight

,

Jacinta Maree

,

Bobbie Palmer

,

C. L. Matthews

,

E. C. Hibbs

,

Heather Clawson

,

J. K. Radalyac

,

Luke McCallin

, &

Susan Burdorf
This is a collection of ya/mature ya short stories featuring dragons. All royalties are going to the American Diabetes Association. Authors are: E.C. Hibbs, Jacinta Maree, Victoria Escobar, Susan Burdorf, Luke McCallin, C.L. Matthews, Ruthi Kight, J.K. Radalyac, Bobbie Palmer and Heather Clawson.
Heather Clawson's tag cloud