Heather Young
Biography
Heather Young is a mom of three geeklings, wife of one super geek, and chief cook and bottle washer. A stay-at-home work-at-home mom with a stay-at-home work-at-home family. She unschools her three children, unschools herself, and in her free time is a watercolor artist, a web designer, publisher for her husband's books, and now a writer. She learned to declutter in self-defense. She blogs about life at http://untraditionalhome.com/, art at http://elasah.com/, and unschooling at her group blog, http://christianunschooling.com/.
Where to find Heather Young online
Books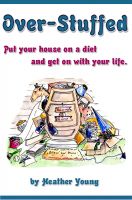 Over-Stuffed: Put Your House on a Diet and Get on with Your life
by

Heather Young
Is God nudging you to unload the excess possessions that clutter your life? Do you feel trapped by your own stuff but you don't know where to begin?
Heather Young's tag cloud