Hedda Lamb
Biography
Hedda Lamb is a mother of two, an RN, a farm wife, a small business owner, a photographer, and an equestrian, as well as Noah's daughter. She loves driving a big SUV and a small, powerfull ATV.
Books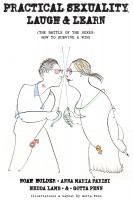 Practical Sexuality: The Battle of the Sexes. How to Survive and Win
by

Noah Holder

,

Anna Maria Parisi

,

Hedda Lamb

, &

Gotta Penn
The Battle of the Sexes can be won; learn how to win, and how to avoid the catastrophic losses that may await you. Winners laugh, losers cry bitter tears; be a winner. Stop making the same damnfool mistakes. Gain understanding of the opposite sex, and, boy, are they ever "Opposite". Laugh at the jokes and learn from the quotes. The dirty limericks are priceless.
Hedda Lamb's tag cloud