Heidi Sieg-Smith
Biography
Heidi Sieg-Smith was born and raised in Berlin, Germany. She earned a business degree from the 'Industrie und Handelskammer' (business school) in Berlin.
After graduation she worked as cook and 'au pair' in Basel. Switzerland.
In 1963 she traveled to New York, working as private chef and 'au pair' for a couple of years.
Heidi and Trent Smith, bought and renovated and old farmhouse in Vermont while raising three children and a flock of sheep.
They moved to Wilmington, North Carolina and eventually to Taos, New Mexico, where they now live. All along Heidi worked as chef, retail and whole sale business owner and Realtor. A journalism class at the University of Vermont planted the seed that now has sprouted into a writing life.
Books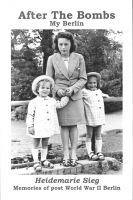 After The Bombs - My Berlin
by

Heidi Sieg-Smith
This recollection begins with the life of a German family at the beginning of the First World War and continues with their struggles in the aftermath of the Second World War. After the war Berlin was mostly rubble and the Cold War was heating up. The Berlin Blockade and the construction of The Wall placed the city in the center of the Cold War.
Heidi Sieg-Smith's tag cloud