Helen Grimm
Helen Captin Grimm grew up in Cleveland Ohio. Her family survived the depression. The flaming redhead was interested in writing and believed that members of her family were direct descendants of George Washington. This quest for a connection became her avocation. She married Victor Grimm and they had two daughters, Jeanette Grimm Wood and Elinor Grimm Luse. Both girls shared their mother's love of history.
Mrs. Grimm taught at Cleveland College. She continued her research about George Washington, traveling to Virginia among other places to do research. Her novel took years of research and rewrites on her old Royal typewriter. During this time she also had two books of poetry published, Different Patterns and Tall White Candles, as well as several short stories. It is her older daughter, Elinor, who has brought to fruition, this project, her mother's dream. This could not have been accomplished without the help and editing of Witt Wittmann when she was working on a research project at the school where Witt was teaching. Without this assistance Mrs. Grimm's dream would not be a reality today.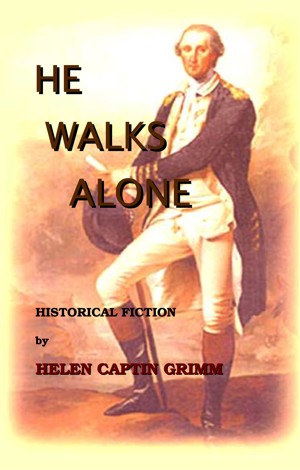 He Walks Alone
by

Helen Grimm
A realistic and romantic novel about George Washington, his early life, admiration of Sally Fairfax and his hope for the Colonies.