Helga Parl
Helga Parl was born during the height of the Great Depression, in a city in East Germany, not far from Berlin. Her childhood memories are punctuated by having to run almost nightly into bomb shelters, and suffering hunger and cold. Yet she managed to keep a sunny disposition, enjoying little things, like a flower at the edge of the footpath, or a pretty piece of glass that caught the sunlight.
Through her job, she met her future husband. Trouble was, he lived in Holland, 'the forbidden West'. Authorities refused to issue a permit for her to accompany him to his home land. But being young and in love and full of hope, she was afraid of nothing. On a gloomy Easter day, when it was raining 'cats and dogs' the couple succeeded to escape.
As a young bride, living in Holland, she found herself suffering forced separation from loved ones, struggling to master a foreign language (Dutch). and battling seemingly insurmountable financial challenges. Finally, one miserable wet day, the young couple made the ambitious decision to migrate to Australia. There, battling to learn a third language, Helga fought against sexual discrimination to make her mark in a male-dominated world as an engineering draftswoman.

Helga came late in life to writing. After self-publishing her first novella, ''Brisbane, Bach and Brandenburg'' in 2006, she joined Fairfield Writers Group. Here she acquired valuable skills and confidence to create new stories, fairy tales and poems.
She was a contributor to all five Anthologies of the group — ''Beginnings, Queensland Stories''; ''Life's a Roller Coaster''; ''Changing Seasons'', ''Crime Stories'' and ''Christmas Stories: A Collection for Adults''. Some of her contributions to these collections shine a light on her fascinating past and life in war-torn Germany.

In 2014, to celebrate her 80th birthday, Helga self-published, in conjunction with Rainbow Works, Pottsville, N.S.W., a book of short stories called Pixels.

2016 saw the release of her novel, ''Angela and Her Boys'', also produced in conjunction with Rainbow Works and with extensive editing help from Lorraine Cobcroft.

Some of Helga's other interests are Code Break puzzles, drawing, and travelling.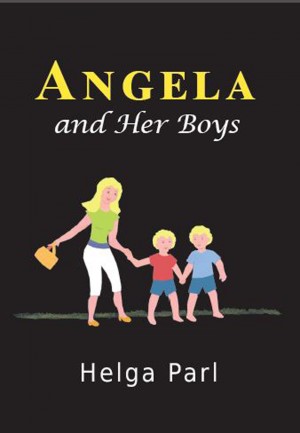 Angela and Her Boys
by

Helga Parl
As wife of the eminent Professor Zealander and mother of his special twins, Angela thought she had it all. But his death presented surprising challenges for the young IVF scientist... and a chance meeting delivered an opportunity for an exciting new beginning.