Jan Welborn-Nichols
Biography
Jan Welborn-Nichols really was born in Peculiar, Missouri. Now that she lives in Bloomington Illinois she is near to Normal, the town next door. Jan was a chubby kid who survived a trying adolescence of bad skin, ugly glasses, and plus size clothes. She has been an opera singer, a cubicle drudge, a black belt in the Japanese martial art of Aikido, an entrepreneur, and is the owner of Market Arts Creative. Henrieta Sharp and the Magic Lunch Box is the first in a series.
Where to find Jan Welborn-Nichols online
Videos
Introducing Henrietta Sharp
Meet 12-year-old Henrietta Sharp, heroine of the science fiction fantasy Henrietta Sharp and the Magic Lunch Box.
Henrietta Sharp's Odd Friends
On her quest to save the taste buds of humanity, Henrietta Sharp meets some pretty interesting people.
Introducing Kitchen Kitty
By day, Kitchen Kitty is Kippy the cat, feline friend to Henrietta Sharp in the eBook Henrietta Sharp and the Magic Kippy now does his part as the cape-wearing Kitchen Kitty, determined to help kids of all ages become Food Detectives.
Kitchen Kitty Heart Healthy Month
Henrietta Sharp's feline friend, Kitchen Kitty, introduces Food Detectives to heart healthy eating.
Books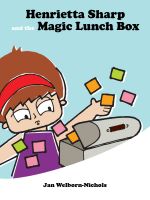 Henrietta Sharp and the Magic Lunch Box
by

Jan Welborn-Nichols
A chubby 12-year-old deals with mean girls at school, a brand new super power, and an intergalactic villain who wants to take over the taste buds of humanity. With her two best friends and a most unusual guide, Henrietta Sharp must overcome her self-doubt and learn to wield her power without losing her humanity.
Jan Welborn-Nichols' tag cloud