Joseph Hoffler
Biography
As a young, ambitious African-American in the 60s, Joseph W. Hoffler knew his career choices would amount to being either a teacher or a preacher when he graduated college. While both noble professions, Hoffler wanted more, so he followed his brothers' lead and enlisted in the US military.

Hoffler quickly rose through the ranks and was identified as a candidate for officer's training school. He completed officer's training with high achievement and later became the first black squadron commander in US Air Force Academy history.

He had originally joined the military to escape racism and enter a level playing field with his white peers, but to his surprise, the racism he meant to avoid found him at the US. Air Force Academy. In his new book, Promotion: Denied (Hertford Free Press, ISBN 0-9794686-0-4), Hoffler chronicles his tour at the US Air Force Academy in an era where he says racism was rampant, sanctioned and approved.

The son of a self-employed auto mechanic and school teacher from Perquimans County, N.C., Hoffler is the youngest of six children. To improve their standard of living, his father moved the family to Brooklyn, NY, where Hoffler was born, in 1940. His family eventually returned to Hertford, N.C., when Hoffler was 5 years old.

Hoffler graduated with a Bachelor of Science in biology, in 1962, from North Carolina Central University. In September of the same year, he enlisted in the U.S. Air Force. He completed basic training at Lackland Air Force Base in San Antonio, Texas, and was assigned as a security policeman at Truax Field, Wis. After two years at Truax, he entered officer's training school in April 1964.

While in security police officer's school, at Lackland Air Force Base, Hoffler met his wife Ruby Kimbrough on a blind date, in 1964. When Ruby's enlistment was up, in 1965, Hoffler proposed and the two married in Utica, N.Y. They were married for more than four decades, Ruby passed in 2006.

After being assigned as the Chief Security Police, RAF Greenham Common, England, Hoffler crossed trained into the missile career field, in 1970. Hoffler received his MBA from the University of Missouri in 1975. He returned to the security police career field and his squadron at RAF Mildenhall, in 1979, was named the "Best Security Police Squadron" in the U.S. Air Force.

Because he consistently achieved outstanding reviews, Hoffler found himself on a special assignment to the U.S. Air Force Academy as the commander of the 7625th Security Police Squadron. During his final year at the academy, as he was being considered for promotion, a group of senior officers launched a witch hunt against him by recruiting and rewarding a poorly performing airman in his squadron to fabricate false infractions, meant to embarrass and humiliate and ultimately lead to disciplinary actions and his early retirement.

"As a product of the segregated South, I was not a stranger to racism. However, I did not expect to see 'in-your-face- racism' on a U.S. military installation. Up until this point, the military had treated me impartially," says Hoffler. "I bled Air Force blue and still do. It wasn't until my operations officer and first sergeant, both white, came to me and said this was racially motivated that I considered the possibility of racism playing a factor."

Hoffler was a successful entrepreneur and served as president and CEO of Hoffler & Associates Counseling Service and Hertford Free Press. He is a Certified Addiction Counselor, taught fathering classes at the Center on Fathering, and to incarcerated dads with the Inside/Outside Dads program. For 12 years, he was a substitute teacher in Academy School District 20 in Colorado Springs, CO.

Hoffler met the former Judie Felton at a book signing reception in their hometown, Hertford, NC in 2010. The two fell in love and married the following year. Together, they have four children and five grandchildren. Hoffler presently resides in Hertford, NC with his wife, Judie and he is very active in the local community. He's also an active member of The Omega Psi Phi Fraternity.
Books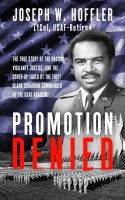 Promotion Denied
by

Joseph Hoffler
Promotion: Denied—The Harrowing True Story of Racism, Cover-up, Betrayal and Vigilante Justice at the United States Air Force Academy blows the lid off the shameful secret of the USAF Academy's history of racism and clearly illustrates why the USAF Academy was known by some black airmen stationed there as "the plantation."
Joseph Hoffler's tag cloud