Hilary Benford
Biography
Hilary Foister Benford grew up in England. As a child, she experienced the blitz bombings of World War II around London. She has a degree in French literature from the University of London and also studied in Cambridge, Strasbourg and Paris. As a student, she worked various jobs in France as waitress, hotel receptionist, chambermaid and switchboard operator. She taught English at a French high school for a year and then taught French in both England and California. She married an American physicist and they have two children.
She co-authored Timescape with her brother-in-law Gregory Benford in 1980.
She has traveled extensively in 40 countries and still loves to travel. She has made a point of visiting all the sites where Joanna, sister of Richard Lionheart lived, from Fontevrault to the Holy Land, from Sicily to Toulouse. She has a lifelong interest in history, languages, the Middle Ages, and her hobbies include genealogy, cooking, crosswords and reading mysteries.
She currently lives with her husband in the San Francisco Bay Area.
Books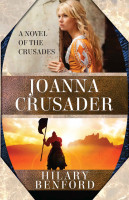 Joanna Crusader
by

Hilary Benford
Account of the second half of Joanna Plantagenet's life, starting with her adventures on crusade with her brother and ending with her plea to become a nun, while married and pregnant!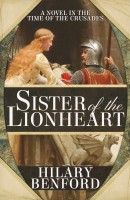 Sister of the Lionheart
by

Hilary Benford
An unforgettable heroine in a novel of the Crusades This historical epic introduces a strong and truly unforgettable heroine, Joanna Plantagenet, whose drive and persistence helped change the course of history.
Hilary Benford's tag cloud