Hilary Beavis
Biography
I am a single lady, loyal, trustworthy, very reliable and a traditionalist by nature. I am an only child with a quiet and reserved disposition. I am organised and conscientious. Currently, I have pt-time hours one day a week as a Receptionist at a local Medical Centre. I have family and friends in the North Island of New Zealand who I have visited several times and only wish the world could be 'squashed' to reduce the travelling time! I enjoy going to classical music concerts and also theatre productions both locally and in the West End of London. I try to keep active by going to the gym at least once a week, more when time permits. In July 2017 I published my second book, Folkington, East Sussex - a Village History.
Smashwords Interview
Books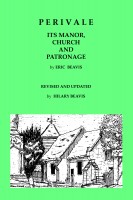 Perivale - Its Manor, Church and Patronage
by

Hilary Beavis
The book revises and updates Eric Beavis' researched and published book in1963. New and additional photographs are included, particularly of the Old Rectory. The story of "The Friend's of St. Mary's, Perivale" tells how the community sought a future use for the ancient Church after being declared redundant in1976. Now established as a small classical music and arts venue in W. London.
Hilary Beavis' tag cloud