Hitesh Choudhary
Biography
Trained as an Electronics Engineer and mastered as computer network and Information Security, Mr. Hitesh Choudhary is a renowned Author, video author, International speaker and security consultant. Also he is a student of CS50 semester at Harvard's and got trained in wireless security from a prof. of MIT. He created various tools and attacks like wireless Eurynomus featured in pentest magazine and in Backtrack project. His webinar on wireless, Backtrack, and ethical hacking was attended by 5000+ professionals from Google India, HP, IBM, Accenture, TCS, Sapient Corp. , Symantec, EEL India Ltd., Capgemini, Micro Technology, CDAC, Kodak India Ltd., Wipro Infotech Ltd., ABB Ltd., Tech Mahindra Ltd., and many more. He is also an active consultant and speaker for Rajasthan police and his work was featured in 20+ air, print and live media.
Where to find Hitesh Choudhary online
Books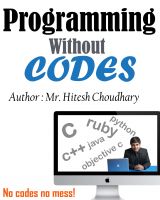 Programming without Codes
by

Hitesh Choudhary
How do I start programming? Where to begin to write code? What should I learn first are some great question that creates troubles to all new starters of coding. But the problem doesn't end here, which language should I begin with? Should I start with C language or ruby or python or java? These all problems are solved in this book.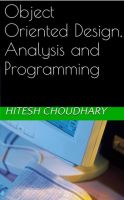 Object Oriented design, Analysis and Programming
by

Hitesh Choudhary
This book will help you out understanding each and every concepts related to object-oriented programming. This is an essential read for all the early beginners as well as the experienced programmers as this book deals with concepts starting from a lower level of difficulty to the higher one and that too in a very simple and a reader friendly environment.
Hitesh Choudhary's tag cloud