Jansenius T. Lange, Jr
Biography
Author's Bio:
Jansenius ("Tito") Lange, Jr. was born in 1955 in Port-de-Paix, Haiti. The son of a prominent minister, Tito learned at a very early age that cultivation of integrity through honesty was the only foundation on which to cultivate character. The ensuing study of 'universal wisdom' captivated his curiosity so completely that he determined early on to educate all teenagers in the spiritual wisdom of honesty and has never looked back.
This life vision led to his discovery of 'mind as energies,' from which he created Self-Development Wisdom Institute and it's parallel production, Wise Mind Wisdom Education, designed specifically to stop bullying and suicide practices among adolescents of the world. These educational approaches have been tested and found reliable for personal freedom cultivation for minds of any age.
Books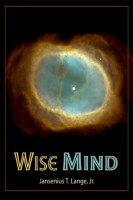 Wise Mind
by

Jansenius T. Lange, Jr
Wise Mind is a book of guidance, reminders of wisdom that we all can access to navigate life's situations with grace and inner strength. These resources are inner 'spiritual wisdom energies' that all ages can connect with, practice, and apply to life's circumstances to provide inspiration by which our minds --and lives-- can be healed as well as "renewed and reinvented" again and again.
Jansenius T. Lange, Jr's tag cloud