Mary Mills
Biography
Mary Mills holds a Ph.D. in German and has spent time in Germany researching the activities of the Quakers during the Third Reich. She has also translated poetry written by inmates of Theresienstadt. Her translation, "Voices of Theresienstadt " appeared in the Nov., 2009 issue of Pacific Coast Philology. She translated Hans Albrecht's deposition in behalf of George Grosz in an article titled "German Quakers & the Trial of George Grosz", which appeared in the April, 2003 issue of Friends Journal.
Books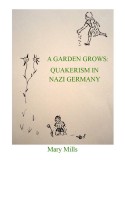 A Garden Grows: Quakerism in Nazi Germany
by

Mary Mills
In 1998, Etta Albrecht Mekeel, the daughter of Hans Albrecht, the Clerk of the German Yearly Meeting 1927-1947, gave me copies of her father's discussions of the growth of Quakerism in Germany. Since they were in German, I considered the eventual possibility of my translating them and requested her permission to do so. She gave it and this book is the result.
Mary Mills' tag cloud