Elena Nebreda
Biography
Spanish born Elena Nebreda got a case of Reverse Culture Shock so bad after living abroad that she had to do something about it. She interviewed tons of returnee expats to find out successful ways to re-adapt and turn Reverse Culture Shock into a much easier and lighter process for everybody. She wrote an understanding and supportive guide for expats to feel better and empowered to mesh all their cultures into the one works for them no matter where they are.
Where to find Elena Nebreda online
Videos
For expats who go back home
This is the book I wished I had last year when I got home from living abroad. It provides comfort, understanding and ideas to those who go back home and experience re-entry shock, it offers more than 42 ideas to make you feel better, stories from repatriates and a Workbook with 19 exercises that will help you get proactive towards your re-adaptation. And it goes for just $5.99! For more resources go to www.howtosurvivereversecultureshock.com
Books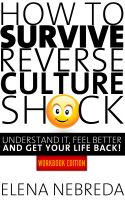 How To Survive Reverse Culture Shock: Understand It, Feel Better and Get Your Life Back! Workbook Edition
by

Elena Nebreda
the guide to making your transition back home easier, full of resources for you to know exactly how reverse culture shock works and what to do about it, to feel better with stories of people who returned home and to empower you to feel good and normal again. more than 42 ideas that helped others and 19 exercises for a hands on approach to your re-adaptation.
Elena Nebreda's tag cloud