Howard Green
Howard Green was a broadcast journalist for thirty-three years, best known as founding anchor at Canada's Business News Network, where he hosted the flagship interview program, Headline with Howard Green. During his almost fifteen years at BNN, he conducted more than 14,000 interviews, many with leading CEOs and the biggest names in business and politics, including Sir Richard Branson, Federal Reserve chairman Alan Greenspan, and former British prime minister Tony Blair. Prior to that, Green spent eighteen years as a correspondent, producer, and director making programs for a variety of networks, including the Canadian Broadcasting Corporation and PBS. Green is a two-time Emmy nominee and winner of Canada's top television prize for his documentary work, and his films have been broadcast worldwide. In 2013, Green became a bestselling author with the release of his first book, Banking on America: How TD Bank Rose to the Top and Took on the USA. His second book, Distilled: A Memoir of Family, Seagram, Baseball and Philanthropy, co-authored with Charles Bronfman, was also an instant Globe and Mail and Toronto Star bestseller and finalist for the National Business Book Award. Howard Green lives in Toronto.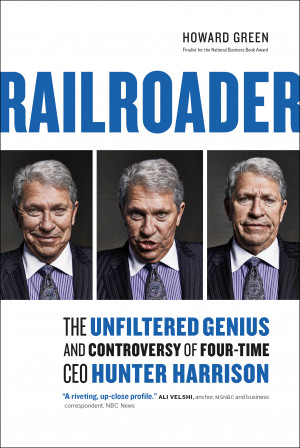 Railroader: The Unfiltered Genius and Controversy of Four-Time CEO Hunter Harrison
by

Howard Green
Hunter Harrison, the revolutionary railroader from Memphis, dramatically turned four publicly traded companies into cash machines. Starting as a laborer when he was a wayward teenager, Harrison spent a half century in the rail business and nearly two decades running Illinois Central, Canadian National, Canadian Pacific, and CSX.