Hugh Vest
Biography
Hugh Vest is a native of Independence, Missouri, and a 1986 Graduate of the United States Air Force Academy. He is intimately familiar with the world of advanced technology having retired as an Air Force F-16 Fighter Pilot after serving for over twenty years. He has been a "Top Gun" in two separate fighter wings and he is a command pilot with over 4,000 total flying hours, 120 hours over Iraq, and 2,600 hours in the F-16. His first book, Employee Warriors and the Future of the American Fighting Force, published by Air University Press, was a unique study in military culture. The BABEL Project is his first novel. Hugh currently resides in Yorktown, Virginia, with his wife, Tracy, and daughter, Delaney.
Books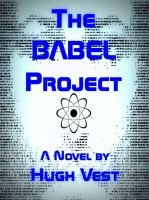 The BABEL Project
By
Hugh Vest
Price:
$0.99 USD.
Words: 90,450. Language: English. Published: January 4, 2013. Category: Fiction
America's hidden Project BABEL Research Facility is on the brink of discovering creation. But something has gone terribly wrong. BABEL's Lead Scientist is found dead after locking the experiment in a super computer with an unknown password. Battling the evil ambitions of the project director, a broken super genius must pry the password from the mind of the scientist's estranged daughter.
Hugh Vest's tag cloud